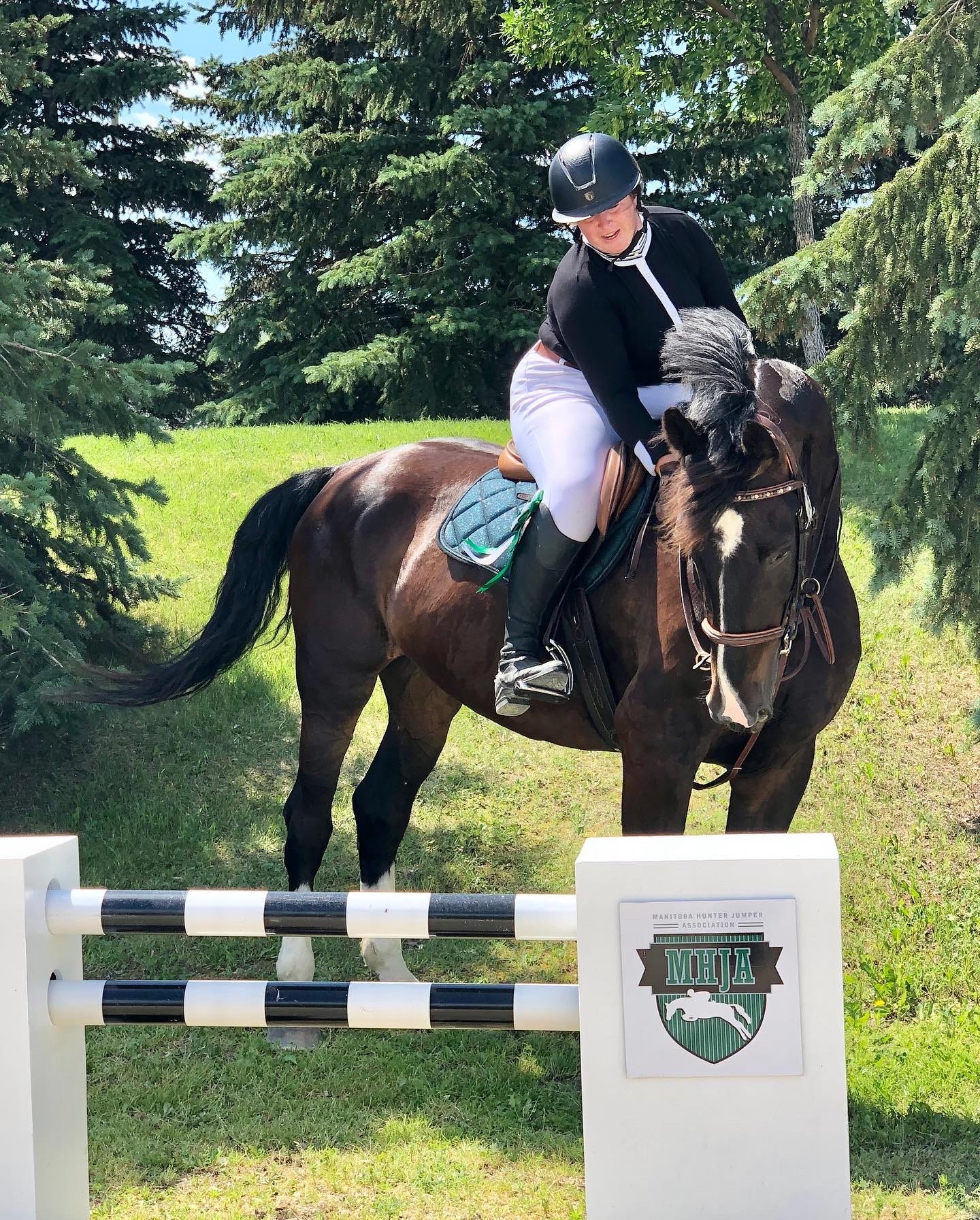 It's been a while.
June was busy. Odys and I had our first sanctioned show and it came with some big learning experiences to work through. The most standout one was finding our rhythm, on course but also in our relationship. Fatigue got the better of us by the last day of the show, and this brought up some residual tension for me I think left over from a decade ago when I paused my competition career.
Working through this myself I found a sense of codependency in Odys and I's relationship. The expectation had crept in, and with it the anxiety and fears that in reflection were shadows from the past more than accurate predictions for the future. Isn't that the case with so much of tension, though? I so often find in myself and I'm my clients that physical or emotional tension is created in resistance, and also in expectation. It's something that exists outside the present and continuously pulls us away from presence.
Starting our June off reflection on the tension I found in myself, and directed towards Odys, was a kick off point for some major personal insight. With a busy month in the clinic, on top of bringing back travel work for the first time in a couple years, I ended the month in one of my favourite areas of the country (Calgary) teaching at a friends facility and spending some quality time with a close mentor, friend and therapist of my own.
What started as a work trip quickly evolved into a personal retreat. By the time I hit the road for this trip I was harbouring, and ruminating on some heavy experiences in my body and mind. Nothing like a long road trip full of long worn days to support that processing (insert sarcasm).
The time away did end up being a supportive experience, though. It gave me a chance to disconnect from Odys in a healthy way and reconnect with myself. Heading west is so often a chance for me to connect to myself in a progressive way; supported doubly by connecting with friends and mentors while there. After some amazing experiences with clients, and profound experiences on the receiving end of support myself, I returned home connected deeply back into my body and my purpose.
Odys seemed to have had his own chance to decompress and renew while I was away, and reconnecting to him on returning home felt like we had both levelled up in a way that matured our relationship dynamic. Just in time for our second sanctioned show!
I went into this show with a different perspective and game plan. I decided to do just one class a day, in our lower division, with the intention of becoming specialists at that height.
This, I think, was the best decision I have made yet! We made it through all four days with energy to spare, and each round improved on the last. We found our rhythm, we boosted confidence and we depend our connection. Icing on the cake was placing in the top six in 2/3 of our classes in large competitive rosters of about 30 competitors. We ended the weekend with our first mini Prix, and toon home a 5th place. Our rides since this show have been deeply connected, meaningful sessions that allow that line of trust and confidence to continue evolving.
July so far has been focused on building new fitness on top of the foundation we had going into the summer. I am working personally on grounding practices as a regular daily thing, and it's amazing to feel how this is translating to my presence in the saddle.
Every little change I am finding and shifting in my body has been allowing the same type of shift for Odys. For the rest of the summer I am holding the intention of leaning into connecting to myself differently, and noticing how the impacts my connection to Odys and other aspects in my life.
Next up for us is heading west together, this time, to Rocky Mountain Show Jumping for two shows back to back in August. I am very much looking forwards to taking Odys to my happy place.